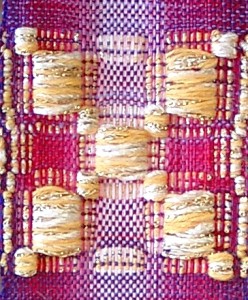 Weaving is one of the oldest crafts in the history of humankind. It is often viewed as a sacred activity, creating order, purpose and beauty from the creative potential of chaos. Warp and weft bring together the strands of a human life to form a unique pattern, also filled with purpose and beauty, reflecting the sacred order of the universe.
In the same way traditional dances create a coherent field that will carry on even when the dance itself is finished. The field becomes even stronger when many dancers join the circle, and the coherence that results will allow the individual dancer to also align any personal areas of disharmony into the bigger universal field.
Katharina Kroeber is both a weaver and circle dancer. Click here to Contact me for information on upcoming classes and courses.
See also
www.weavingstudio.findhorn.org
SPECIAL EVENT: BodyTalk, Dance and 3 Brain Coherence with Katharina Kroeber CBP
Sunday 26th of May 2019, the Sunshine Room, The Park, Findhorn, 7.30pm
BodyTalk: communicate, synchronise, balance
a comprehensive system to work with our body intelligence, to use the priorities of the body to restore connection and allow healing to occur.
The first half of the evening is an introduction to the BodyTalk System, with a practical exercise to take home. In the second half of the evening we will engage our 3 brains through traditional circle dance – could training our body intelligence be the purpose of these old dances?
All welcome, no experience necessary. Just bring your curiosity.